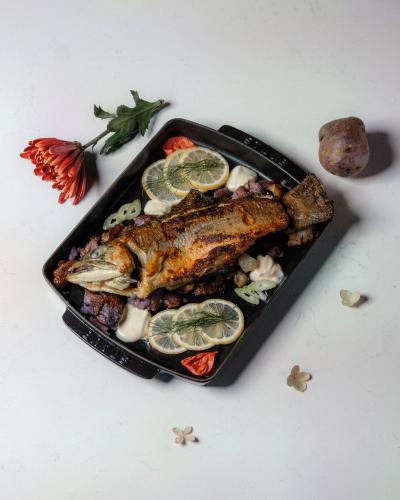 I recently visited Bramble and sat down with owners Shawn Hyer and Chef Colleen Hunt to talk about the inspiration for their restaurant and how they create some of the unique dishes you find on their menu. After working for some incredibly talented restauranteurs around the world, this husband-and-wife team has come home to Vermont and created a restaurant that showcases the best of Vermont's local farmers, butchers, and artisans. During our conversation, they shared with me their passion for locally sourced and seasonally inspired ingredients, as well as their love for exploring different flavor profiles and techniques from around the world. They also spoke about their commitment to creating a warm and inviting atmosphere for their guests, where they can enjoy delicious food and an unforgettable dining experience.
Located in the Essex Experience, they have created a unique and welcoming atmosphere where guests can gather with friends and family to enjoy fresh, savory dishes, many of which are perfectly cooked in their custom-made blue wood-fired oven. Bramble is the perfect place to unwind and enjoy a meal, a drink, or a lazy Sunday brunch.
*This interview has been edited for length and clarity.
Q: Can you tell me about the concept and inspiration behind the restaurant?
Shawn: Colleen and I have been very lucky in our career paths. We came we both came into the business pretty honestly and have worked for some incredibly talented people in some really beautiful places like San Francisco, Napa, Sonoma, and Park City, as well as Spain and France. The chefs that we've worked for, as well as the restaurant owners and the bartenders, have shown us how important your food source can be. 
Vermont has always been home to us. And we've felt that the small farmers, cheese makers, sausage makers, sugarmakers and many other producers here in Vermont are fourth, fifth, or sixth-generation businesses that are very similar to makers in places like Provence, Corsica, and Napa. So we always asked ourselves, "why don't people think of Vermont culinarily like they do in these other places?" Our mission was to come home with everything that we've been lucky enough to learn outside of Vermont and do something similar but a little bit more casual back here. It's a little bit more approachable but with no less attention to detail and no less seasonal.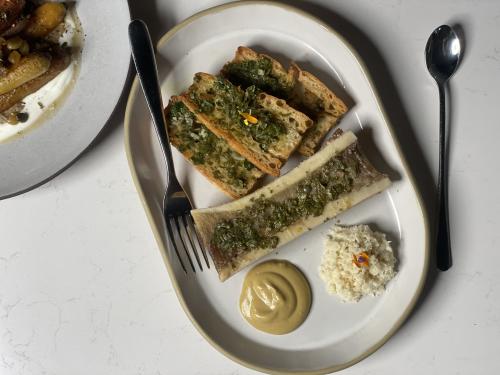 Q: That leads me to my next question, how does Bramble source its ingredients?
Shawn: We define ourselves as 'micro-seasonal' because we're literally involved from the seed up. We have a couple of small producers that we work so closely with that we can start planning our menu as they start germinating seeds. 
We work with a handful of small local producers like Adams and Dandelion farms in Westford, Rocky Hill Farm for organic produce and pasture-raised rabbits, Picnic Provisions for hand-made sausages, Hy-On-A-Hill Trout Farm which is just on the border, north of White River Junction and several others. You will also find local spirits on our cocktail menu like Bar Hill Gin, along with Vermont ciders and beers.
Q: How would you describe Bramble's culinary style and the dishes on your menu?
Shawn: Fresh. We say most things coming through our kitchen are "kissed by wood, fire or smoke." We have this really beautiful, wood-burning oven that's a key element to the style of cooking that we do. We like to cook with wood. It's very primal. It's very challenging. And it lends a different dynamic to what we are doing. When you look at our dishes you will see that a lot of items have been prepped in the oven. Like our mushrooms, salt-roasted potatoes, root vegetables, chicken and more.
Q: So it's not just a traditional pizza oven?
Shawn: Correct. It is not that pizzas don't come out of there, pizzas are on the menu, but t it is only about 15% of what is cooked in our oven.
Q: The oven seems like it is the centerpiece of the restaurant. Was that done on purpose?
Shawn: Yes, literally. It weighs 8,900 pounds! When we built out the restaurant, we had to rip out the back wall to get it in here and then built the restaurant around it. The bar circles it in a large U-shape and the dining tables beyond that. Stylistically it matches what we are doing food-wise as well. Our menu items are meant to be shared if you want. We wanted the restaurant to feel convivial, to be familial. Similar to what it is like when you get together with friends or family in your home. Typically most people gather in the kitchen, the heart of the home, and then break bread collectively.
Q: How does the Bramble stand out from other restaurants in the area?
Shawn: Although we are familiar with Vermonters, we were lucky enough to go away and come back with a fresh perspective. We thought that we could do something that not everybody else here is doing, and, do it in a way that people don't feel like we're forcing it on them. Our main mission is to get you to trust us culinarily. And then once you trust us, we can take you outside your food comfort box. 
This is true for kids as well. We don't have a kid's burger on the menu. We don't have chicken tenders on the menu. We don't have french fries on the menu. Yet families with children eat here regularly despite not having a traditional kid's menu. Colleen especially felt like we didn't need to feed kids junk. They can eat real food. While they can always get a simple cheese pizza, plain pasta or a side of roasted vegetables, because our menu is meant to be shared, family-style it is an opportunity for kids to try a bite without feeling like they have to finish that whole plate.
It works well for adults too. You might not like mushrooms and wouldn't order a mushroom dish on your own, but if it is just one plate that everyone can share, you might give it a try. That seems to that works out really well for our customers.
Q: Do you have a favorite cookbook?
Colleen: I think the most dog-eared book, the one that gets used the most is The Food Bible. It's not a cookbook per se, it's more like a reference book. It tells you what ingredients work with other ingredients. For example, Mandarin works really well with pistachios, a combination you might not ordinarily think of. It also explains the health benefits of the ingredients.
Q: How often do you change the menu?
Colleen: Weekly. It is not a whole menu turnover it's item by item. We change at least two or three items weekly. And outside of that, components of more staple items will change depending on what's available. We have a roasted chicken that's on the menu. The chicken is probably not going to go anywhere for a while. It's a pretty good staple but for right now it's roasted with winter vegetables whereas, two weeks ago it was something else, like, potatoes.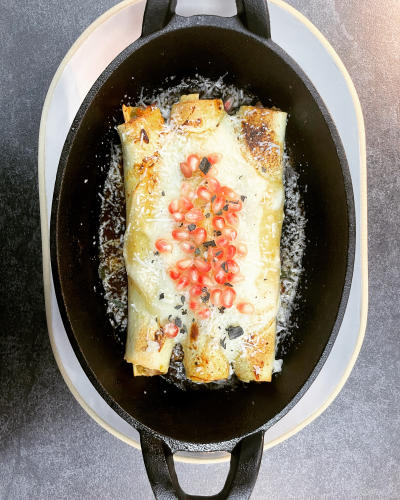 Q: Any big plans for the future or anything we should know about?
Shawn: Our small patio out front was such a success last summer but we want to have more outdoor seating. We are planning to build a patio in our backyard that will have at least 40 more seats. The patio area should be spacious enough to accommodate a bocce ball court or a big open fire pit, where people can hang out. We want it to feel cozy and welcoming maybe like the yard of an English country cottage.
We are really grateful for all the effort Peter Edelmann has put into creating the Essex Experience Campus. There are so many great activities and events that draw people here to visit. As our business partner, he has definitely played a significant role in our success.