24 Hours In Burlington
Short on time but want to get the most out of your stay in the Queen City? We get it. This itinerary is guaranteed to make your day in Burlington one for the books.
Begin with breakfast at August First. This community hub is conveniently located just off Main Street on Champlain Street and offers a wholesome menu of breakfast, lunch, and scrumptious baked goods. So sit inside or out and enjoy the from-scratch food and good vibes.
Walk south down Pine Street to explore the dozens of small businesses and artist studios that make up the vibrant arts district. On a Saturday in the summer and early fall, check out the Burlington Farmers Market at 345 Pine Street and peruse the bountiful harvests and offerings from regional farms and specialty food producers. The Farmers Market is a beloved community institution that's been going strong since 1980—this is as Vermont as it gets.
Head back north to Main Street and  City Hall Park. The newly renovated pu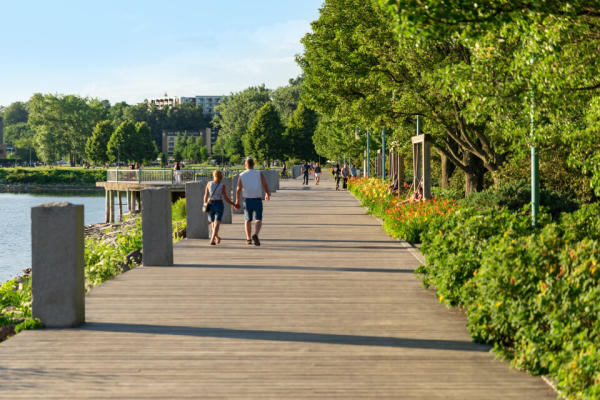 blic space is home to the BTV Market—a diverse gathering of artists, makers, and food vendors that happens every Saturday from June to October. The market is a great venue for finding one-of-a-kind gifts and souvenirs, from handmade pottery, jewelry, fine art, and wood crafts to great coffee, plenty of good eats, and more. Plus, you can meet 'n' greet with the folx who make them! From City Hall Park, access the Burlington City Arts Center to view current art exhibitions, then ramble up Church Street for more shopping and festive street life.
When you're ready for some downtime, make your way to Waterfront Park to take in the beautiful Burlington Harbor. Grab a maple creemee at Ice Cream Bob's and relax on a bench swing or stroll down the popular bike path. If you time it right, you might catch a legendary Lake Champlain sunset.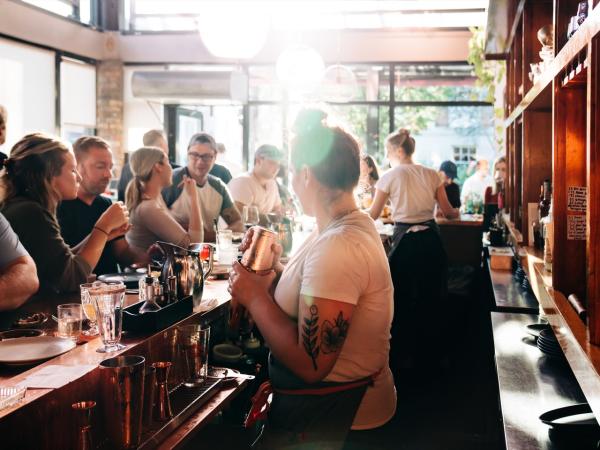 Make reservations at the James Beard-nominated restaurant, Honey Road, for a fabulous dinner. Executive Chef Cara Tobin creates inventive Eastern Mediterranean dishes that are served in a sophisticated and cozy setting. If you're looking for something that doesn't require reservations, that's more laid-back but still incredibly delish, Zero Gravity Beer Hall serves excellent food and its equally excellent (and famous) beer. You can't go wrong with an order of the Katsu cauliflower wings (not just for vegans!) or the Korean-style lettuce wraps with BBQ pork. End your visit on a high note and catch some live music at the quirky and intimate Radio Bean on N. Winooski.
There's still so much to see, more places to eat, and things to do! We hope you get the most of your day in Burlington and return for many more

.