Nothing epitomizes a Vermont summer like a real maple creemee. It's the perfect combination of the two agricultural practices for which we're best known; maple sugaring and dairy farming.  Local establishments like Palmer Lane Maple have been a destination for creemee lovers since 2012. Pure maple syrup is added in perfect proportions to a high-butterfat milk base and a Taylor soft serve machine churns the ice cream to velvety, billowing peaks. The resulting creemee, swirled expertly in a cone, calls to mind the texture of just-spun gelato. Don't forget to top it with their homemade maple sprinkles or maple dust. 
Vermont Cookie Love, a roadside "Love Shack" twenty minutes south of Burlington off Route 7, straddles the line between nostalgia and new wave. The chocolate-brown shack sells homemade cookies and manages a seasonal parking-lot window dedicated to creemees and ice-cream-cookie sundaes.
Throughout the day, cookies arrive warm from the oven, sending an aroma across the one-lane highway that could melt frozen bones even mid-winter. Ice cream flavors like a coffee-maple twist, churned with locally roasted coffee and pure maple syrup, are some of the many reasons a steady (and worthwhile) line can often be expected.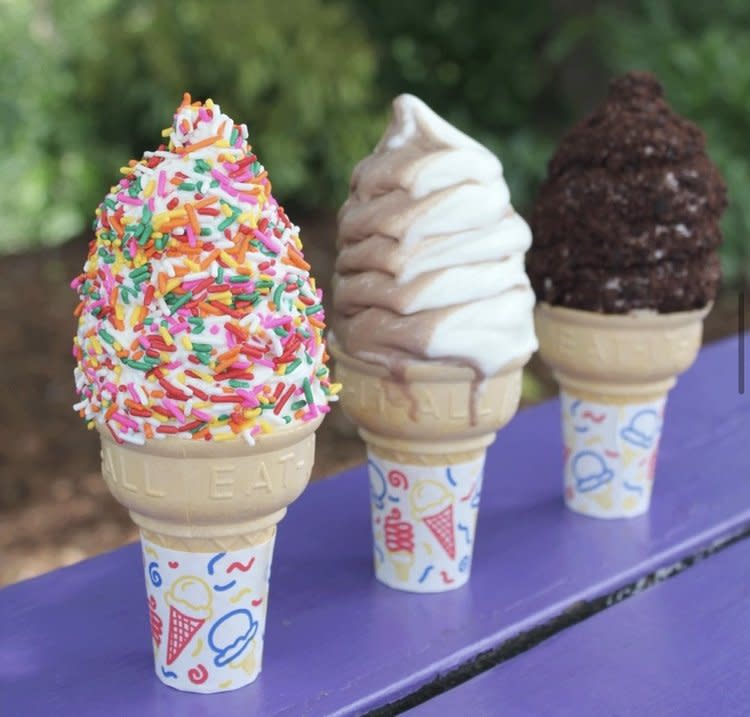 Image by Vermont Cookie Love
Little Gordo Creemee Stand is a hole in the wall creeme stand and snack bar on South Union Street in Burlington. (Behind City Market) They are always serving up something special and typically topped with fruit loops, oreos, or other delicious toppings. You can spin your creemee into a frosty Wizard (which is a lot like a Blizzard) with sweet cream and horchata soft serve, cookie crumbles and rainbow sprinkles -- or order a neatly peaked cone of maple coated with craggy hunks of peanut brittle.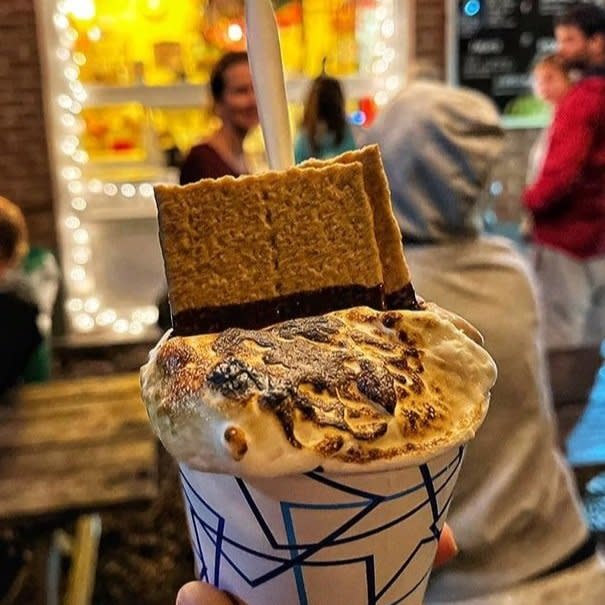 Photo by Tom Carton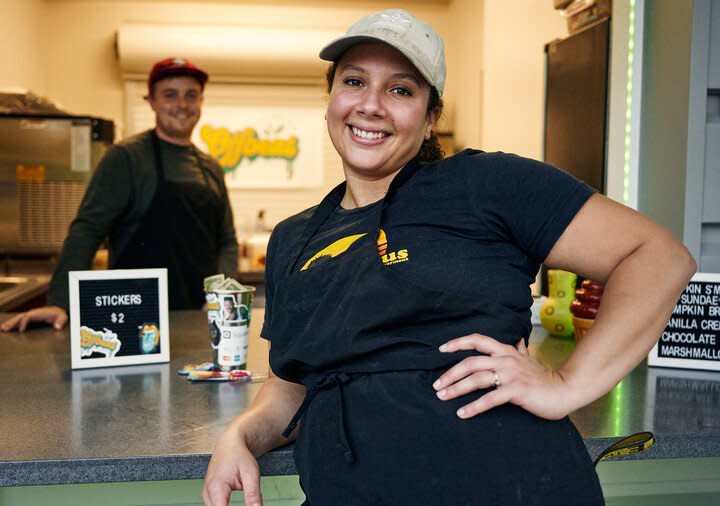 Photo by Bear Cieri
Offbeat Creemee, Aisha Basset's plant-based creemee kiosk beside the Myers Memorial Pool in Winooski, weaves a whimsical and happily unconventional thread through flavors inspired by childhood favorites. For allergy-conscious consumers and omnivores alike, Basset's ice creams lack nothing in texture, flavor, and allure. Featuring delicious flavors like Smoky Campfire, Classic Mint Chip, Beet sherbet, and Blueberry-basil, traditionalists will be pleasantly surprised. Purists can order a swirl of vanilla soft serve if they want, though they can also twist it with yolk-yellow Sunshine Golden Milk ice cream (which, of course, contains no yolks).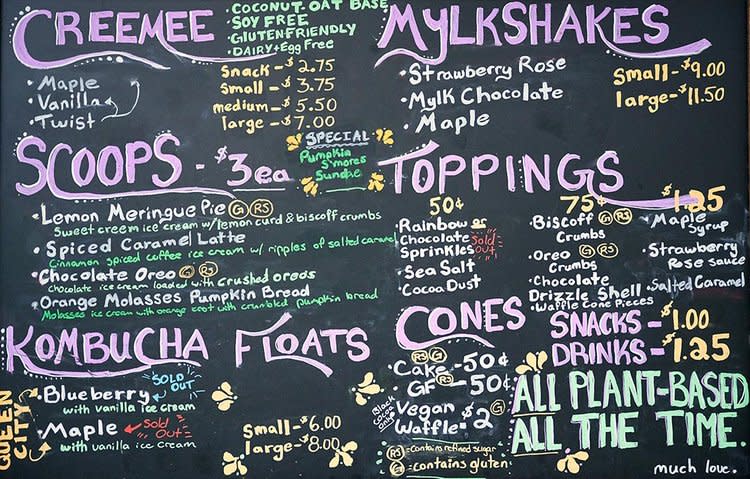 Photo by Bear Cieri
"In Winooski, there's a lot of economic and cultural diversity," says Basset. "People might not be able to eat dairy or eggs due to religious, cultural, or dietary reasons. I switched to plant-based because of the need for people to socialize over ice cream -- it's a big part of going out as a family unit, of being with your friends. And it's a huge part of Vermont culture."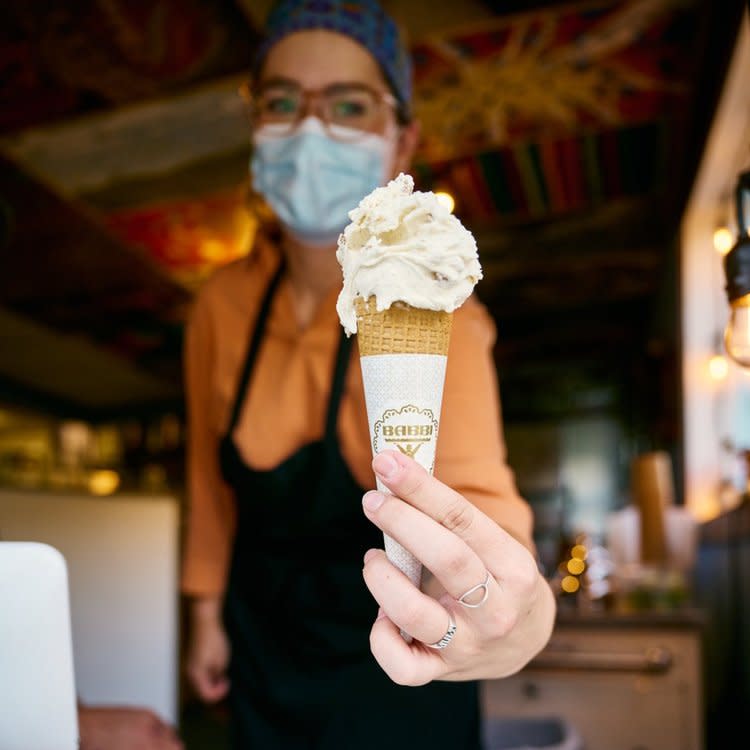 Photo by Bear Cieri
Shy Guy Gelato, opened by Tim Elliot and Paul Sansone in 2016, pulls from Sansone's Italian American heritage, and a stint cooking across Italy, to recreate luxurious gelato with Vermont ingredients and traditional Italian technique. Flavors like creamy cantaloupe gelato, peach sorbet and sweet-cream fior di latte have garnered Shy Guy a committed local following.
 "90% of our crowd is locals from this area," said Sansone. "It feels like Italy, in a way -- Some people come every night after dinner. I've seen neighborhood kids grow up over our past five years in business."  A scoop of Shy Guy is almost like Vermont's high-butterfat soft serve in texture, but the body is slightly thicker, the ice cream denser. With less air pumped throughout, the flavor becomes so concentrated that a bite of khaki-colored Sicilian pistachio tastes exactly of the nut itself, while a scoop of rosy Strawberry-Thai Basil becomes the coldest, silkiest bite of the berry you might experience. Some say their nectarine tastes more like a nectarine than a nectarine.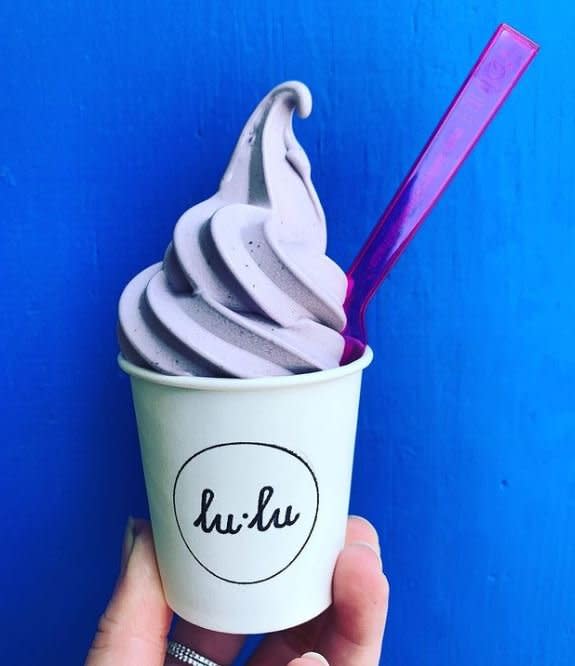 Lulu, an ice cream shop in Vergennes known for its enormous ice cream cone moniker hanging above the doorway, similarly puts locally sourced ingredients at the base of all flavor creations. Owner Laura Mack has honed her palate over multiple decades in the culinary playground that was her family's farm-to-table restaurant, Mary's. Her father was the chef-owner, her mother was front-of-house, and she and her sister were the bartenders-slash-servers. 
"My mentality has always been knowing what I can get locally and allowing my creativity to be the backbone of the flavor profiles," said Mack. "And having fun with it, because it's ice cream -- it should spark joy in the people eating it and in me making it."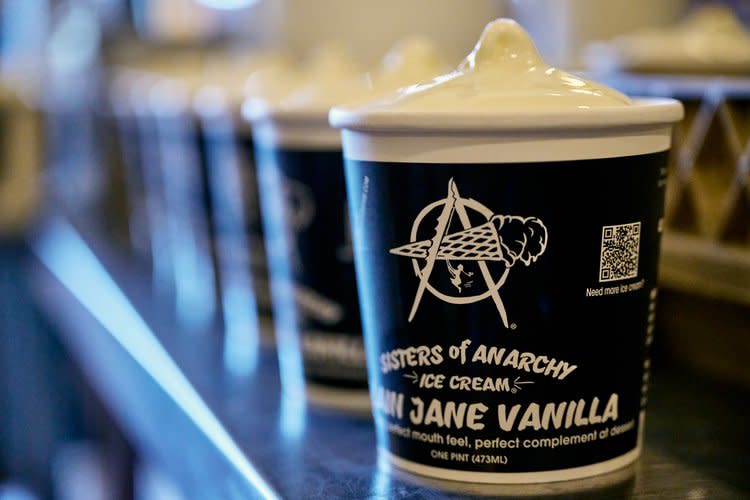 Photo by Bear Cieri
Sisters of Anarchy, a family-owned ice cream shop in the center of Fisher Brothers berry farm in Shelburne, brings hyper-local ingredients to another level by growing most of flavor elements onsite, where they also make 100% percent of their pints. Inspired by a multi-generational love for ice cream, owners Becky Castle ("The Mother of All Anarchy"), Bob Clark ("Farmer Bob"), and their three children Lily, Sunshine, and Clark (formerly nicknamed "The Sisters of Anarchy" for their high-energy childhood) create flavors from local milk and over thirty-thousand row feet of bushes and vines.
There are blueberries, blackberries, elderberries, aronia berries, raspberries, Marquette grapes and a patch of peppermint. What results is ice cream flavors that blend local dairy and hand-picked ingredients with a cheeky sense of humor and a gutsy, ferociously delicious taste.
Standout flavors include Overtime, a base of Burlington-roasted Kestrel coffee ice cream blended with red raspberries; Crystal Blue Persuasion, where fresh blueberries are blended into a pitch-perfect vanilla base; and I Want Candy, the Castle-Clark family's answer to classic mint chip, but with farm-grown peppermint and giant sheets of homemade chocolate broken by hand with a mallet.