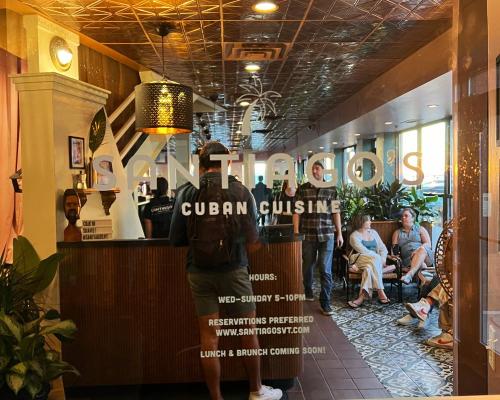 After much anticipation, Santiago's Cuban opened their doors on August 3rd, 2023. Those familiar with Burlington might recognize its historic location—the former Madera's Restaurant, neatly positioned at the very foot of Main Street. This picturesque spot neighbors the newly opened Amtrak station, and offers magnificent views of Lake Champlain and the Burlington Waterfront. With a 'Cuban-Tropical' ambiance, Santiago's is a very unique blend of Havana, Miami, and Burlington, with a music-filled atmosphere and meticulously curated vintage memorabilia.
The owners, Oscar Arencibia and Luis Calderin are first-generation Cuban-Americans from West New York, N
J and Miami, FL respectively. They bring with them a deep-rooted appreciation for Vermont and a commitment to spotlighting their Cuban-American heritage. Together, they've elevated Santiago's from a mere concept to a one of a kind experience. Oscar is the mastermind behind executing a menu of delicious flavors, while Luis infuses the venture with his entrepreneurial acumen and innate creativity. Their combined prowess pays respect to their cultural heritage and has carved a unique niche in Burlington's bustling restaurant scene.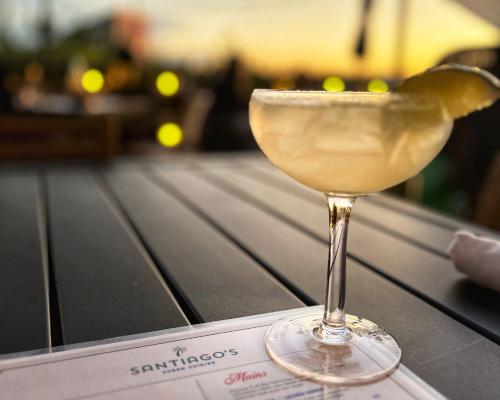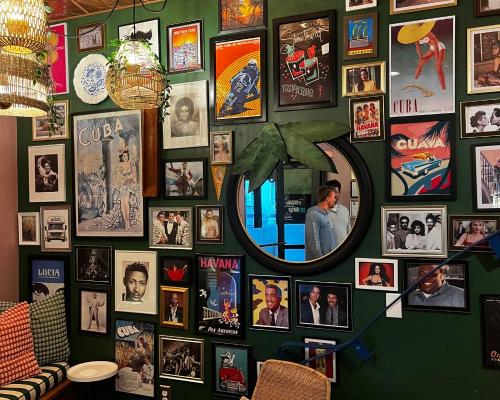 Upon entering Santiago's, we were greeted by a gracious staff, who's vast menu knowledge was evident, and helpful - Especially given the rich tropical influences that introduce an entirely fresh culinary narrative to Burlington.
Three words to linger on: "Best Margarita Ever". This distinction of excellence isn't just the blend of a freshly squeezed lime, orange liqueur, and chilled tequila artfully served in a salt-rimmed glass. It's the blend of an expertly mixed cocktail, the enchanting views of a Lake Champlain sunset, and a touch of Cuban nostalgia that create an unparalleled experience.
If margaritas aren't your thing, the Pina Colada, Cuba Libre, or Hotel Nacional might tempt you. Beer aficionados can pick from a concise list featuring Modelo, Carib, the local Burlington Beer Prickly Pear, and Santiago's signature Lager.
Starting one's evening without sampling the appetizers would be remiss. We began our culinary journey with a few shareables: the delicious Malanga Chips paired with black bean dip and Caribbean Salsa, Crispy Fried Pork Belly, and a Red-Snapper Ceviche. These selections set the stage, teasing our palates for the main event.
Our Culinary Selections Included: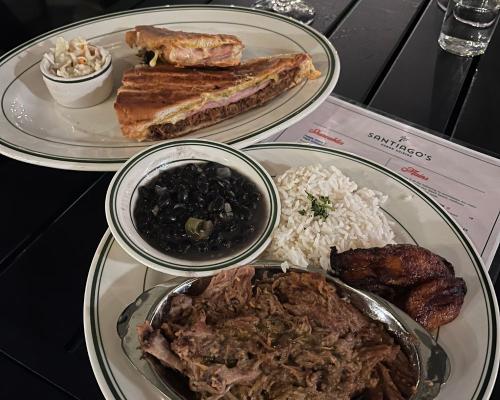 Three Chips / Tres Chicaritas: A trifecta of Green plantain, Boniato, and Malonga chips complemented by homemade bean dip and Caribbean salsa.

Garlic Shrimp / Camarones Al Ajillo: Succulent shrimp sautéed in a rich garlic sauce, accompanied by toasted Cuban bread slices.

Ceviche: Freshly sourced red snapper harmoniously blended with red onions, cuballe, peppers, lime juice, and aromatic herbs.
Main Courses:
A Cuban Sandwich / Cubano: A delightful melange of sweet ham, roast pork, and Swiss cheese adorned with mustard and pickles, encased in toasted Cuban bread from Lo Segunda Bakery, Tampa, FL.

Roast Pork / Lechon Asado: Skillfully marinated with Cuban mojo and slow oven roasted, presented in a shredded, boneless form.
Complement your main choices with two side selections, offering options such as white rice, black beans, maduros, tostones, and yuca con mojo. We very much enjoyed the Maduros.
Moral of the story, Santiago's should undoubtedly find its place on your itinerary during your next visit to Burlington.