Long-standing culinary gem Misery Loves Co. opened its second restaurant, Onion City Chicken & Oyster, last August. Situated at the top of the roundabout in Winooski, this eatery offers an eclectic mix of southern-style dishes that are sure to tantalize your taste buds. The ambiance strikes the perfect balance between elegant and casual, making it an ideal spot for any occasion, from a romantic dinner to a casual catch-up with friends. Go hungry. It's easy to over-order here.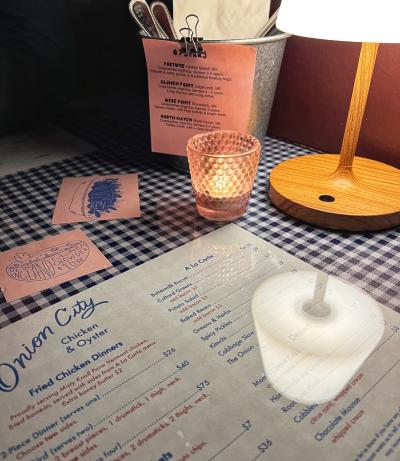 As soon as you step foot inside, you'll find the dining room exudes a cozy and intimate atmosphere, with just the right lighting. The walls are made of exposed brick, with deco-style chandeliers hanging from above, while a massive swordfish serves as a striking focal point on one of the walls. The mix of plastic baskets lined with wax paper combined with the Homer Laughlin antique china plates from the 1800s creates a charming juxtaposition of old and new. Finally, the blue checkered tablecloths and tin pail silverware lend a rustic touch, while the hot sauce readily available on the tables adds a bit of spice. 
The staff at Onion City Chicken & Oyster are incredibly friendly and knowledgeable about the menu. They are happy to make recommendations and answer any questions, which is good because they have a rotating selection of oysters. While they all share a distinctive briny taste, the texture, flavor profile, and overall character can vary widely depending on the type of oyster and where it was harvested. Oysters come with two accouterments, but you'll likely end up ordering a few more as it is hard to choose between the mignonette, horseradish, cocktail sauce, pickled mustard seeds, chive creme fraiche and kimchi.
You'd be remiss to skip the a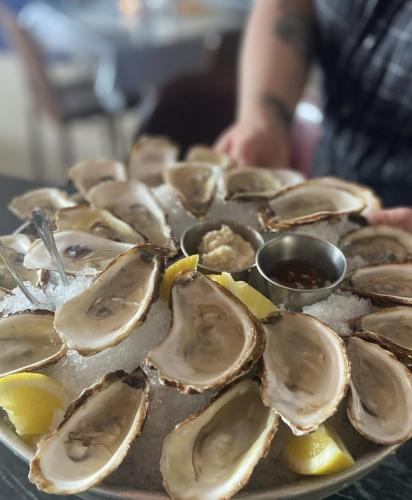 ppetizers. The savory Cheddar Beignets are decadent, fluffy balls of goodness that melt in your mouth. And just a heads up, the Honey Butter Chicken Wings aren't your typical bar-style finger food wings. These are deep-fried and the size of the palm of your hand. Careful dipping them in the honey butter and hot sauce, though. It's delicious but spicy!
The star of the menu is the bone-in fried chicken. Made with local Misty Knoll chicken, it is perfectly crispy on the outside and juicy on the inside. The two-piece dinner serves one, while two can share the half-bird, and the whole bird is enough for four. Chicken dinners come with two sides, but again, you will probably want to order more because the selection of a la carte items is just that good. The buttermilk biscuits, spicy pickles and potato salad (with or without bacon) are fantastic. 
With a menu that has something for everyone, Don't overlook the baskets, either. The New England-style lobster roll served on a buttered frankfurter roll can be ordered hot or cold, or you can eliminate the bun altogeth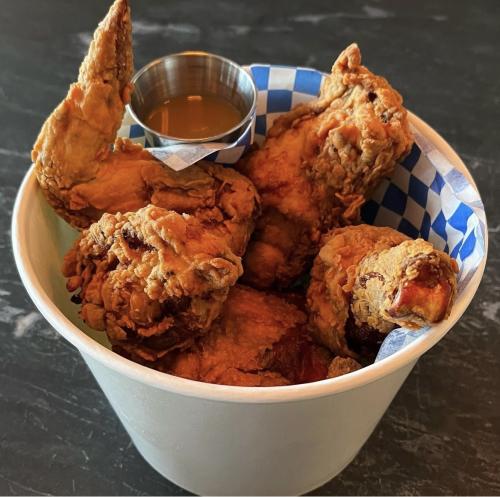 er and have it as a lobster salad. They have Hot Dogs and Fish and Chips as well. If you have saved room for dessert, try Mom's carrot cake or the Cobbled Biscuit with citrus curd and whipped cream.
Currently, Onion City Chicken and Oyster is only open for dinner Wednesday through Sunday and does not accept reservations. However, you can call right when they open, and they'll put your name on the list. Alternatively, they do offer takeout.  If you do go early, you can take advantage of the Early Bird special, which includes $2 oysters, $2 of Hors d'oeuvres and a $20 2-piece chicken dinner with two sides. 
Images Courtesy of : Onion City Chicken & Oysters @onioncityvt
The Details
3 E Allen St, Winooski, VT 05404
802) 540-8489
Wednesday - Saturday | 4:30 pm -9:30 pm
Sunday | 3:00 pm - 8:00