Say Hello to the Blind Tiger, the newest addition to Lark Hotels' portfolio in Vermont. Situated on South Willard Street, in the upscale tony Hill neighborhood of Burlington, this exquisite boutique hotel is the perfect complement to Lark Hotels' existing three properties in Stowe.
CONCEPT
Blind Tiger is Lark Hotel's boutique hotel collection which debuted in 2020 with its first property in Portland, Maine. The term "blind tiger" originated in the 1930s and was commonly used to describe establishments or speakeasies that illicitly sold alcohol during the Prohibition era, which is exactly what the Blind Tiger Portland property once was.
For this collection of hotels, Lark specializes in transforming former dwellings into one-of-a-kind properties where their patrons enjoy a truly exceptional stay. With a desire to make visitors feel like a local, they like to use big beautiful, old historic buildings located within residential neighborhoods of cities.
Blind Tiger Burlington attracts mostly couples who appreciates art, care about sustainability and are  coming to Burlington the want to embed themselves a little bit more our local culture, vibe and feeling. They might be visiting local friends or just looking for a weekend getaway.
HOTEL
Blind Tiger Burlington's property holds a distinguished place in the National Registry of Historic Places., It was initially constructed in 1881 as a private residence for Charles W. Woodhouse. Throughout its rich history, this grand Victorian-style home has undergone various transformations. It transitioned from being a private residence to serving as a nursing home and most recently operated as the Willard Street Inn until its closure in 2020. However, in May 2023, the property reopened its doors under the management of Lark Hotels, emerging as the magnificently reimagined Blind Tiger.
Intricate architectural details like black and white tile in the bathrooms, porcelain light fixtures, hardwood floors, crown moulding with intricately carved rosettes, and stained glass windows, are details that pres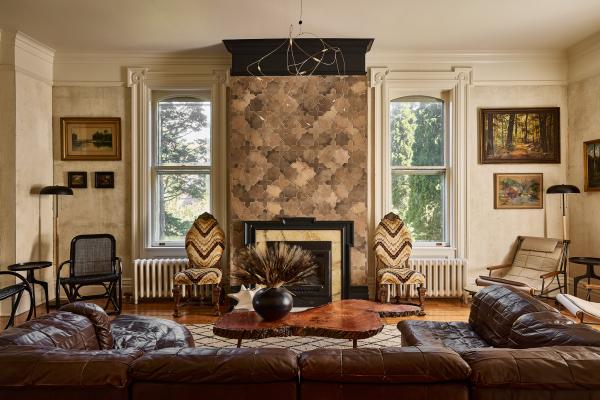 erve the historical charm of the house. With help  from the Elder & Ash design firm they added an eclectic mix of cool vintage and mid-century modern furnishings, modern lighting, bold artwork and accessories to the existing antiques and paintings transforming the property into something that works to honor both old and new.
The complimentary Guest Pantry filled with snacks and drinks available 24/7. In the future they hope to expand it to offer more Vermont goodies like cheeses and chocolates because there are so many great local products to showcase. It is intended to feel like the guest's own kitchen, where they can just go down for midnight snack and take whatever they like.
Currently the only meal offered is a complimentary Breakfast which is served from 8:30am to 10am in the dining room. Guests help themselves at their leisure to bagels and toast with various toppings, yougurts, fruit, granola, hard boiled eggs, juice and coffee. You are welcome to eat in the sun-filled solarium that is also perfect for reading books or playing a game of cards.
ROOMS
Blind Tiger has 14 unique guest rooms with no two accommodations alike. When the property was renovated they combined some rooms and added bathrooms to all of them.  Additionally, select rooms offer separate living areas or inviting reading nooks, with leather sofas or high wingback chairs, and dedicated spaces for work or artistic endeavors. Several guest rooms have gas fireplaces with original mantles, adding a cozy ambiance to the surroundings.
Room number eight, located on the second floor, is the largest. This two bedroom suite is perfect for families or couples. In addition to the two king bedrooms, and one and a half baths there is a living room. Room Number Six used to be the master bedroom when the Inn was a private residence. It is one of the biggest guest rooms in the house. With a king sized bed, fireplace and sitting area it is also one of the most romantic.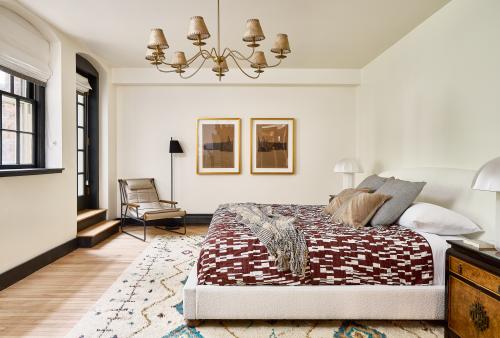 Plus there  is a lovely little built-in chest of drawers in the hallway which is original to the home and separates the main room from the bathroom, which was kept the same with subway tile and an antique bathtub.
It is hard to say which is the "best room" but if you are looking for a view, request Room 12. Located on the third floor it has outstanding views of Lake Champlain, the Adirondack Mountains, and the gardens. 
During the renovations, Blind Tiger added two more rooms downstairs on the lower level. Rooms 1 and 2 have private exterior entrances and patios that overlook the expansive, backyard that boasts abundant flower and vegetable gardens. And when the leaves drop, there are also views of Lake Champlain and the Adirondack Mountains in the distance.
LOCATION
The Blind Tiger is located in a historic neighborhood filled with well-preserved period homes, including elaborate mansions and charming smaller residences. Dating back to the early 19th and 20th centuries, they represent a diverse range of architectural styles, from Federal to neo-Colonial. 
The hotel is within walking distance of just about everything, including Church Street Marketplace, the Waterfront, Champlain College and the University of Vermont. There is no shortage of things to do nearby.
Staff Recommendations:
STAY
349 S. Willard Street 
Burlington, Vermont 05401
Stay@blindtigerburlington.com
802) 651-8710
Rates begin at $349/night but fluctuate depending on the specific room, season, day of the week and occupancy level.