If you're looking for things to do near Burlington, we hope this list inspires you to get outside and explore Vermont. Whether you're a local, a visitor, or a destination expert, around every country hill-side,  there's always something new, fun, or different to explore.
Here's a compilation of 50 ideas to kick-start your adventure in the Burlington area.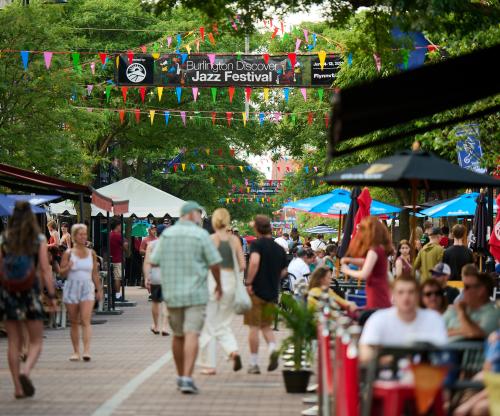 Spend a day shopping and dining along the Church Street Marketplace, Burlington's pedestrian shopping district. With seemingly endless shops and boutiques to explore, venture a few corners off Church Street to discover even more.

Rent a SUP or kayak and explore the waters of Lake Champlain or one of the many inland lakes and ponds in the region. Check out this article on rentals to reserve your board or boat.

Discover hidden gems in downtown Burlington. One we recommend starting with is Hong's Chinese Dumplings. She began as a food cart on the Church Street Marketplace and a few years ago, purchased a brick-and-mortar store on Pearl Street downtown and now serves up some of the best dumplings you'll ever eat.

Spend your weekend exploring local farmers markets and sampling the area's most delicious and local products.

Raise a glass at the second-ever Craft Brewpub in the nation - Vermont Pub & Brew. Interested in learning more? Check out this article on the history of brewing in Burlington.

Stop by the BCA Center on Church Street and explore their rotating gallery.

Plan your trip around a festival or event and witness the city come alive! Our recommendations include the Discover Jazz Festival, Festival of Fools, and Grand Point North (when it's back in action!). Additionally, here's a list of more festivals happening in Burlington this summer.

Enjoy a 360-degree view from a Lake Champlain Sunset Cruise aboard the Spirit of Ethan Allen.

Take a quick trip to the Ben & Jerry's Factory Tour and explore the ice cream-making process or revisit your favorite flavors in the Flavor Graveyard.

Charter a fishing boat on Lake Champlain, known for world-class fishing opportunities for Smallmouth Bass, Lake Trout, Northern Pike, Landlocked Salmon, and more.

Learn to juggle at the Festival of Fools, held every year in July along the Church Street Marketplace.

Listen to live music at Nectar's Bar, where the band Phish got their start!

Visit the South End Art Hop and explore the captivating artwork throughout the city.

Explore the biodiversity of Lake Champlain at the Echo Leahy Center, boasting over 70 live exhibits daily.

Stop by Ice Cream Bob's on the waterfront for one of Vermont's special "Creemees." Remember, Ice Cream Bob's only accepts cash, so be prepared. Thankfully, Burlington Bay is just steps away.

Explore the area's history and learn about Vermont's local war hero, Ethan Allen, at the Ethan Allen Homestead.

Join us in the winter months and experience the Hotel Vermont Ice Bar! Stay tuned for upcoming dates.

Visit the Shelburne Museum, walking through historic museum grounds, exploring exhibits, and catching glimpses of life from hundreds of years ago.

Every Monday night during the summer months, enjoy the Battery Street Concert Series at Battery Park. Don't forget to pack a snack or visit Beansie's Bus for a hot dog and fries!

Dine at Honey Road on Church Street and delve into a new dimension of tapas and other Mediterranean-style entrées.

Hop on the Champlain Valley Dinner Train for a memorable dinner and a ride along Lake Champlain and the Green Mountains.

Travel back in time at the Archives Bar and enjoy an eclectic mix of classic arcade games while savoring craft beer or mixed libations.

Rent a bike and explore beautiful downtown Burlington, the waterfront, and an 8-mile bike path extending to the Champlain Islands. Check out our list of bike rentals and trail systems.

Explore the Lake Champlain Islands by car or bike. That's right, the Burlington Bike Path extends all the way to the Champlain Islands with the help of Local Motion's Bike Ferry crossing on the causeway.

Tour one of the many local craft breweries and uncover the secrets behind Vermont IPAs.

Capture a picture of the Burlington sunset from the Burlington Waterfront.

Visit the world-class A-Dog Skatepark along the Burlington Waterfront.

Savor locally produced wines and learn about the winemaking process in a northern climate. Alternatively, explore one of Burlington's esteemed wine shops, such as Wilder Wines.

Dust off your boots and set off on a hike in Vermont's Green Mountains and soak in the breathtaking views of mountains and lakes.

Head to Shelburne Farms and visit the operating farm or enjoy a drink while gazing over Lake Champlain and the Adirondack Mountains.

Grab your swim trunks and head to the beach. Burlington boasts three sandy beaches along the shores of Lake Champlain.

Listen to one of the many local artists at venues like the Light Club Lamp Shop, Radio Bean, Foam Brewers,  and other local spots.

Check out the Burlington Surf Club, take a board out on the lake, or take a refreshing dip into Lake Champlain.

Indulge in tacos, burritos, and homemade chips at Taco Gordo or El Gato Cantina.

Gather your friends and explore Burlington Paint n Sip for a night of creativity, laughter, and togetherness.

Ring in the New Year at Burlington's highlight event and watch the annual fireworks with your loved ones.

Lace up your running shoes and sign up for the Vermont City Marathon. Participants can enter to run the full, half, or join a relay team to conquer 26.2 miles together.

Cool off on a hot summer day by taking a dip in one of the hundreds of local streams and brooks. Check out a list of local waterfalls here!

Visit the Cold Hollow Cider Mill in Stowe for a day full of Vermont's finest apple cider and cider doughnuts.

Take a gondola ride up Vermont's tallest peak and enjoy a drink or a meal at the Cliff House.

Hit the links on an 18-hole golfing adventure with stunning views and good times.

Spend a summer night watching the Vermont Lake Monsters, Burlington's Single-A Professional Baseball Team.

Take a drive to the Northeast Kingdom and experience Hill Farmstead, ranked as the #1 Brewery in the world. Check their website for operating hours and reservations.

Enjoy a comedy show at the Vermont Comedy Club.

Visit the Fleming Museum of Art and appreciate a diverse collection of art pieces on exhibit.

Book a day at the Essex Resort and Spa and indulge in an assortment of relaxing spa offerings. Don't forget to bring your appetite along—two on-site restaurants await.

Hop on a brew bus and take a ride to explore the amazing craft breweries in the area.

After a heavy snowstorm, try urban cross-country skiing along the streets of downtown Burlington.

Embark on a Segway Tour of the city. Explore Burlington's historic sites and enjoy the tour without worrying about uphill walking.
Remember, Burlington and its surroundings offer a variety of exciting activities—whether you're seeking relaxation, outdoor exploration, culinary delights, or cultural experiences.