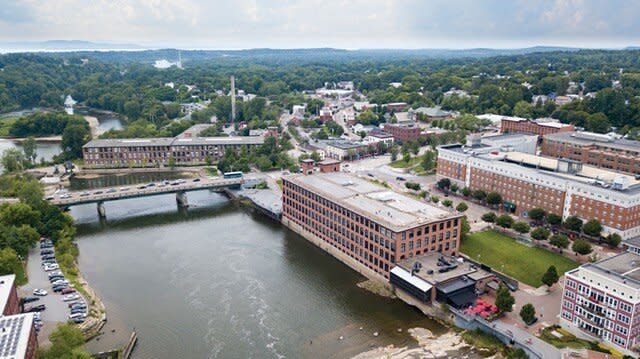 From lively Church Street Marketplace to serene Waterfront Park, Burlington has many charms. Chief among them: The state's largest city is an ideal gateway to the rest of Vermont — some of which is closer than you might think. Much closer.
Just over the Winooski River to the east of Burlington is Winooski. Though small — the entire city measures just one and a half square miles — this happening hood is one of Vermont's most up-and-coming areas. Long beleaguered, the former textile mill town has experienced a renaissance in recent years. An explosion of hip bars, restaurants and businesses has positioned the city as something like New York's trendy Williamsburg neighborhood to Burlington's bustling Manhattan.
Despite its diminutive stature, the Onion City — a nickname derived from Winooski's Abenaki meaning: "land of the wild onion" — punches well above its weight class, especially when it comes to culture. The annual Waking Windows indie-rock music festival, for example, is like a miniaturized South by Southwest, drawing big-name headliners and turning the entire city into a rock club the first weekend in May. The fest alone is worth the trip.
But Winooski is rewarding any time of year. Visitors can experience the best parts of the city — most of which orbit a locally infamous traffic circle — in a day, or even just a few hours.
To that end, we've plotted out a Winooski itinerary in three- to six-hour segments — a hat tip to the New York Times travel series "36 Hours." Whether you spend all day or simply hop over for dinner, drinks and a stroll by the river, you'll find there's a lot to love about this little city.
9 a.m. to Noon
Brunch in Burlington is a contact sport. Instead of battling the hungry — or hungover — masses at crowded BTV restos, fuel up at Sneakers Bistro. The low-key breakfast joint has been an Onion City landmark since 1980, thanks to its stellar eggs Benedict.
Burn off the home fries with a scenic late-morning stroll. Built in 2006, the Winooski River Walk signaled the beginning of the city's revitalization. It's still a crown jewel, hugging the bank of the river for six-tenths of a mile. Pick up the trail at the bottom of Main Street and head east past the tumbling Winooski Falls. Don't forget to stop for an Instagrammable selfie — #dontfallin.
The River Walk connects to the Casavant Natural Area. Popular with runners and dog walkers, the woodsy urban oasis offers another mile or so of gentle walking trails.
Head back to the Champlain Mill, a reminder of Winooski's bygone industrial heyday. Inside, the Heritage Winooski Mill Museum is a treasure trove for those interested in what the mill town looked like before the condos, shops, offices and chic restaurants came along.
Noon to 6 p.m.
If all that walking has your stomach out-rumbling the falls, continue around the roundabout to Tiny Thai Restaurant. Lunch specials make this the most affordable time to sample what is perennially voted the area's best Thai food in the annual Seven Daysies readers' choice awards. The casual Asian eatery is also BYOB, so grab a six-pack or nice Riesling at Beverage Warehouse, home to a staggering selection of local beer and wine.
Speaking of beer, you might have heard that Vermont has more craft breweries per capita than any state in the country. One of the most adventuresome is the 'Noosk's Four Quarters Brewing. The seven-barrel microbrewery specializes in Belgian and barrel-aged ales; beer nerds should look for exotic offerings such as Little Umbrellas, a sour with toasted coconut and pineapple.
Prefer shops to hops? Hip and homey Birdfolk Collective carries an array of handmade clothing, art, jewelry and more — much of it crafted by local artisans. A few doors down, vinyl freaks will dig the stacks at eclectically curated Autumn Records. To commemorate your Onion City trip, consider a permanent souvenir at Aartistic Inc. The tattoo shop made national headlines for offering free tats of Sen. Bernie Sanders during the 2016 U.S. presidential election season.
Birdfolk Collective
Need an afternoon pick-me-up? At Scout & Co., folks come for the espresso and stay for the ice cream. The cozy corner café scoops imaginative flavors, from cinnamon-turmeric to Rocky Rose — that's chocolate, rose, walnuts and marshmallow. You're welcome.
6 p.m. to Midnight
It's hard to beat Waterworks Food + Drink when it comes to al fresco dining — or drinking, in this case. Unwind with a creative, early-evening cocktail — we're partial to the seasonally changing Winooski Falls Sangria — on the stunning riverside patio.
The finicky foodies at the James Beard Foundation love Misery Loves Co., and you will, too. Nominated for multiple James Beard awards, Misery is among the most revered and innovative eateries in Vermont. Squid fans: Try the Black Spaghetti.
Skip dessert and head down the street to Mule Bar. You could spend an entire night sampling the expertly curated craft beer list at this laid-back corner watering hole.
However, we advise moderation in order to close out your evening at the Monkey House. In addition to having a lively pool table and the widest bar stools around, the unassuming nightclub is a haven for cutting-edge indie and electronic music.
For more than a decade, the Monkey has specialized in booking soon-to-be-big acts just before they break out nationally — Kurt Vile, the Tallest Man on Earth, and Thao & the Get Down Stay Down, to name a few. While you're discovering your new favorite city, you just might find your new favorite band.
This story originally appeared in Seven Days and has been edited by Hello Burlington.