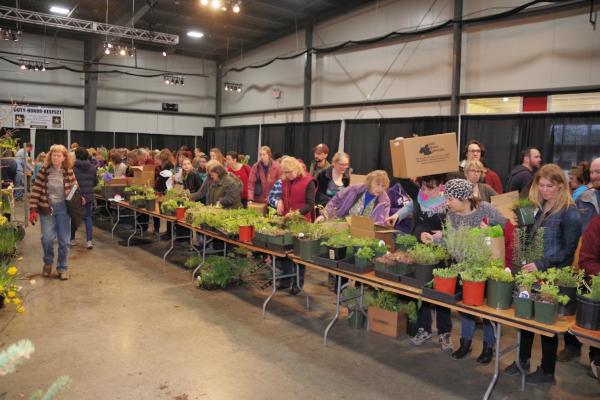 The first week of March is when Vermonters, weary of shoveling and stoking wood stoves, are more than ready for the sights and scents of spring – and this year's 2023 Vermont Flower Show promises to scratch that itch and get folks inspired to start seeds, plan gardens and think a whole new way about their backyard landscape.     
The three-day indoor event, presented by the Vermont Nursery and Landscape Association, (VNLA) returns on March 3-5 at the Champlain Valley Exposition in Essex Junction. 
Teams of VNLA  landscape designers, Vermont Certified Horticulturists, and a dedicated corps of fellow volunteers will spend four days before it opens building the Grand Garden Display – 15,000 square feet of indoor landscape (about an acre) – using thousands of forced bulbs and perennials, flowering shrubs, fragrant blooming trees, and gurgling water features inside the Expo North building.  
This year's theme (appropriate since the 2021 Flower Show was canceled due to the pandemic) is "Out of Hibernation! Spring Comes to the 100-Acre Wood," an adaptation of the original A.A. Milne version of Winnie the Pooh, Christopher Robin, Piglet and Eeyore. The innocent, sometimes comical, always kind, adventures of a bear and his friends are revealed to visitors as they walk through a bucolic English forest featuring scenes from the book.
Gardening Workshops, Seminars and Speakers
The Vermont Flower Show is one of the large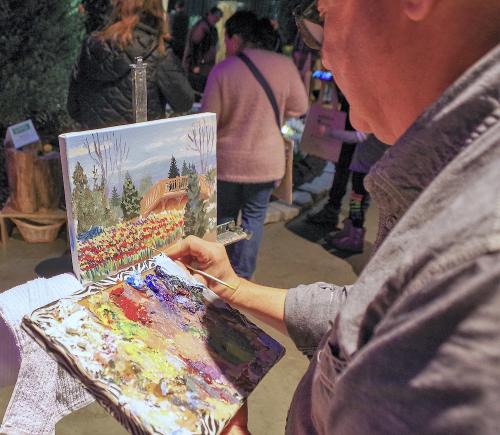 st in New England, and along with the centerpiece garden display, offers a wide variety of garden-inspired activities.  More than 35 inspiring and informative seminars and hands-on workshops will cover a wide range of topics. Keynote speaker Kelly D. Norris whose Three Oaks Gardens in Des Moines, Iowa, are the test grounds for his book "New Naturalism: Designing and Planting a Resilient, Ecologically Vibrant Home Garden," will offer different seminars on Saturday and Sunday at noon. Considered one of the leading horticulturists of his generation, he calls for a garden revolution: out with boring plants and in with stylish alternatives that will thrive in harmony with each garden's setting and local environment.
Other talks will feature local gardening experts like Julie Rubaud of Red Wagon Plants; Charlie Nardozzi of "No-Dig Gardening" fame; 2022  Forester of the Year over a 20-state region Ethan Tapper; wild pollinator researcher Spencer Hardy; and jazz musician and rock star stone mason Jamie Masefield, to name just a few. Check out the full schedule.
Workshops on painting flowers, identifying invasive insects, starting seeds, tree pruning, beekeeping basics and garden journaling round out the weekend. 
Visitors to the Vermont Flower Show will also find: 
100+ garden-and-home related vendors in the Flower Show Marketplace.

Master Gardeners on-hand all three days to answer gardening and landscaping questions.

Vermont artists painting in the Grand Garden Display.

Family Room with kids' craft and planting activities, along with magic, music, and marionette shows daily.  

Phoenix Books will offer a great selection of gardening, landscape and related books and facilitate book signings for author speakers.

The Federated Garden Clubs of Vermont flower arrangements display.

Plenty of Vermont food options. 
The jam-packed plant sale at the conclusion of the show after 4 p.m. Sunday while the Grand Design Display is deconstructed.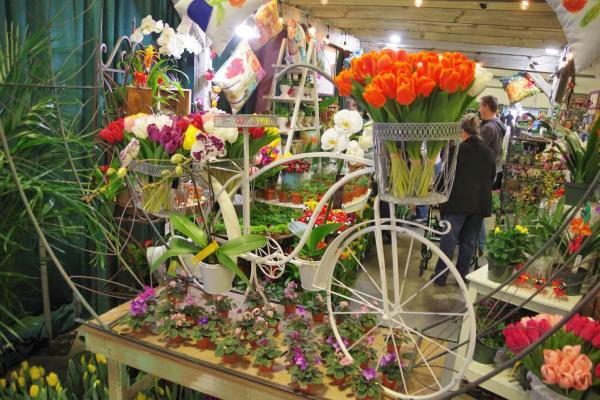 Flower Show After Dark Gala Fundraiser
New this year, "Flower Show After Dark," from 7 to 10 p.m. on Friday created to raise money for two causes Vermont's nursery owners, landscape designers and Vermont Certified Horticulturists actively support with their own volunteer efforts. Vermont Blooms Initiative Program and Green Mountain Habitat for Humanity will receive proceeds of the ticket sales. Gala attendees get a chance to stroll through Winnie the Pooh's 100-Acre Wood to tunes from the live band Good Parts. Appetizers and a cash bar add to the after dark ambience.   
"After Dark" tickets are limited and include: one complimentary drink, a one-day admittance to the show during regular hours (Friday, Saturday, or Sunday), and a signature Vermont Flower Show cotton bag.
Volunteers and Planning Make it Happen Every Two Years
The Vermont  Flower Show was the brainstorm of VNLA members and Vermont Certified Horticulturists back in 1963. Over the years the show has evolved, expanded, and grown into what it is today. Many of its members donate their professional time and expertise over 18 months to design and build the show. Others donate plants and materials and their time to bring the biennial event to life. And more than 100 Vermont Master Gardeners from across the state help with the set-up and answer gardening questions over the weekend. 
The Vermont Flower Show hours are Friday: 10 a.m to 6.p.m.; Saturday:  10 a.m. to 6 p.m. Sunday: 10 a.m. to 4 p.m. Organizers recommend  ticket purchase online in advance to save time and avoid lines. Advance tickets are available online, and at All Market 32/Price Chopper Stores, Claussen's Florist, Greenhouse & Perennial Farm in Colchester, and Gardener's Supply Co. stores in Williston and Burlington. For directions to the Expo.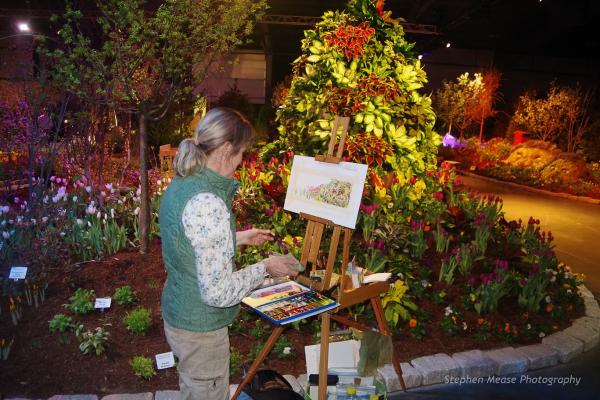 Vermont Flower Show (2019) by the numbers
Read about the 2019 Vermont Flower Show in The Dirt newsletter
15,250 bulbs

1,100 tulips in the Mandala alone

Over 1,000 perennials

1,000 linear feet of granite cobbles

Over 400 trees and shrubs

450 bales of peat moss

400 square feet of sod

180 cubic yards of mulch

90 recycled pallets

10 pieces of heavy equipment

Six big trucks

Three tractor trailer trucks

18 months of planning and over 2,000 hours of volunteer time for design and construction to create this experience

Thousands of dollars of in-kind plants and products donated by VNLA/Green Works members and supporters

Four days of setup

Less than one day for cleanup!
The VNLA has sponsored some type of flower show for over 30+ years.