For those who relish the flavor of sun-ripened tomatoes or crave the taste of just-picked berries, Burlington, Vermont, is a treasure trove of fresh, local produce. The city and surrounding areas boast a range of farmers' markets, each showcasing their unique array of products. With a welcoming, down-to-earth vibe, these markets are ready to greet anyone with a love for fresh and local fare.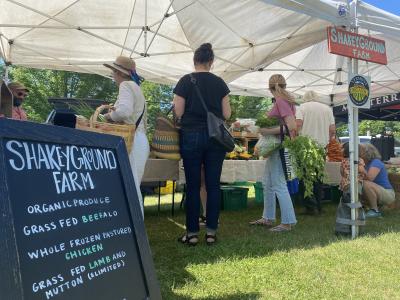 The Burlington Farmers' Market is an unmissable starting point. Every Saturday from late spring through fall, City Hall Park transforms into a bustling bazaar of Vermont's finest. It's not merely a market, but a festive gathering of farmers, artisans, and food vendors. The abundance of artisan cheeses, maple-glazed donuts, and freshly-pressed cider is a feast for the senses, complemented by the cheerful strains of live music.
A short distance from Burlington, the town of Shelburne hosts its Farmers' Market every summer Saturday. The green heart of the town turns into a cornucopia of organic vegetables, grass-fed meats, and free-range eggs. You can't beat their local bread stands and baked goods.
Venturing a bit further to the Richmond Farmers Market, held on Fridays, visitors are rewarded with a picturesque setting and an appealing small-town charm. Amidst the backdrop of the Green Mountains, discover fragrant herbs, locally-made jams, and a selection from the local vineyard's stall. The pastries here, in particular, have quite the reputation for delighting the sweet-toothed.
Back within Burlington's city limits, the Old North End Farmers' Market, a Tuesday staple, offers more than meets the eye. Although smaller in scale, it shines in its diversity. Nestled within one of Burlington's most eclectic neighborhoods, this market offers a variety of farm-fresh products and a peek into global cuisine. Imagine experiencing Iraqi cuisine, fresh kale, and local honey, all in one visit.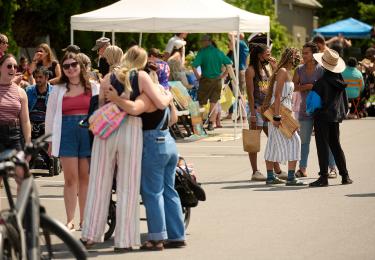 The Winooski Farmers Market is a vibrant gathering held every Sunday from June to October, bringing together farmers, artisans, and community members in the heart of Winooski, Vermont. This bustling market showcases an abundance of fresh, locally grown produce, handcrafted goods, and the spirit of community. With a delightful array of colorful fruits and vegetables, artisanal crafts, and a lively atmosphere, the Winooski Farmers Market is a must-visit destination for those seeking a true taste of Vermont's agricultural heritage.
The farmers' markets in and around Burlington are a sensory delight, providing more than just a food shopping experience. They embody a community spirit, celebrating Vermont's agricultural richness. Visitors won't merely depart with a bag of fresh produce, but also with an essence of Burlington's soul.