There are a handful of cars parked, folks staying cozy and waiting inside at the lot at Oakledge Park in Burlington. As if on cue, a tall woman emerges wearing a bright red dry coat, the other engines turn off and folks begin to hop out of their cars. The woman graciously greets everyone as they approach, a familiar wave or hello, she asks if it's their first time before sharing guidance and tips like the best spot to change in the cove so you don't get a blast from the wind and where are the best entry points into the frigid Lake Champlain. She emphasizes not pushing yourself to stay in too long, even mere seconds are enough she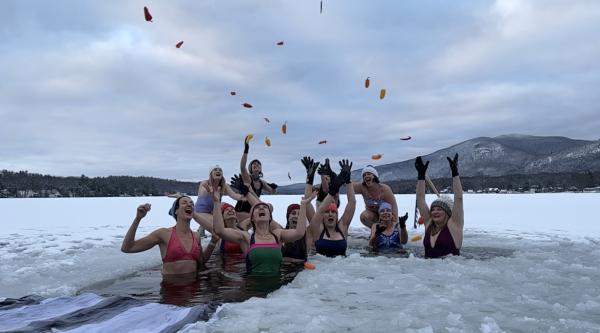 says. Her name is Katharine (Kath) Montstream, a local artist and owner of Montstream Studio & Gallery, right in downtown Burlington. It's mid-November and folks are here to join Kath and The Red Hot Chilly Dippers for a cold water dip in Lake Champlain, which was hovering around 45°F that day. 
On Kath Montstream's Instagram profile @redhotchillydippers, her bio reads, "5 years of chilly dipping! Introducing community to this cold water practice- bringing endorphins, adrenaline & joy!". There are awe-inspiring photos and videos of Kath and a group of people (mostly women) in colorful swimsuits and huge smiles dipping into a freezing Lake Champlain. Pushing sheets of ice out of their way as they slip effortlessly into the water. Posing with silly faces and wet hair frozen as it reaches for the sky in near zero F temperatures. Wiggling on their bums off slippery and snowy ledges as they slide into a hole in the ice.
Before starting her own cold water practice, Kath was in awe of her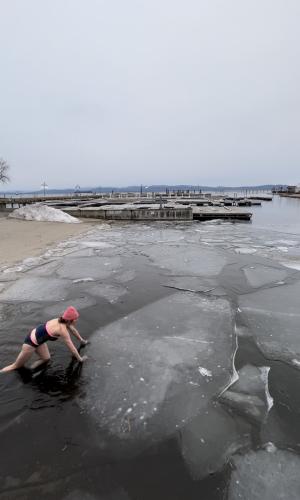 friend Elise who had been doing it every month for almost a decade. She was, "envious of her courage and badassery" but couldn't get over the mental hurdle of how ridiculous it seemed to put her body in freezing cold water. Five years ago she decided that for her birthday she was going to finally join her friend in the cold water. Kath wanted to prove to herself that she could do this wild and hard thing. "Once I did it, I felt like I had a superpower…the endorphins, the dopamine, all of it," her face lights up just talking about it. She remembers being eager to get back in almost immediately. Her initial goal was to get into the water once a month.
 Then the COVID-19 pandemic began and like many of us, she found that sheltering in place shifted her emotional and physical needs. So she started going weekly and then almost daily. She loved everything about it and craved the experience. Getting to the waterfront, being in the water, and the mental and physical "high" she felt afterward. As an artist, she was fascinated with the visuals of the practice, "There's a crazy juxtaposition of a hairless human form in a freezing body of water. It makes for an arresting photo."
She started sharing her photos and videos on Instagram and was surprised by how many people were drawn to them. Some had no interest in doing the practice themselves but loved witnessing her journey while others eagerly asked if they could join her or for tips on how to get started. Kath recognized the potential for a community of cold water enthusiasts in Burlington. The Red Hot Chilly Dippers was born in those early days of the pandemic.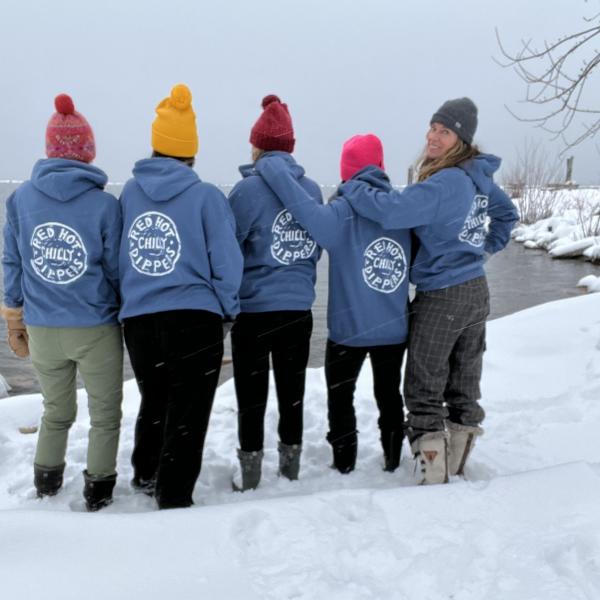 With each winter, The Red Hot Chilly Dipper's community dips reflect the peaking interest. A recent meet-up at Perkins Pier drew over 60 people, despite high winds and icy conditions. Each person comes and leaves with a deeply personal experience, most of the time it's an uplifting one. But if a large community dip creates stress or worry, Kath feels it negates the goal of a relaxing and restorative opportunity to connect with yourself, nature, and others. She often helps foster and encourage folks to create micro-groups. This winter Kath created a Facebook group in an effort to foster even easier connections within the community here in Burlington and throughout the state.
When asked what she loves most about swimming in Lake Champlain during the winter months, Kath notes that it's the changing landscape that's really compelling for her. "Summer doesn't offer the same dramatic shifts. You can keep tabs on the wind, the precipitation, and the high and low temperature every day, but some days you get to the water and the conditions will really surprise you." She recalls some crazy water immersions in the spring when temperature stratification within the surface layer of water can be inverted with cool water sitting on top of warm water. One day in May of 2022, the water thermometer read as pleasantly warm and the next day she found that the temp had dropped 18°F overnight. But that's part of the adventure, "I want drama in the landscape, not in the group." And that's exactly what she's fostered within this community. There's an eagerness from everyone to support each other. At a c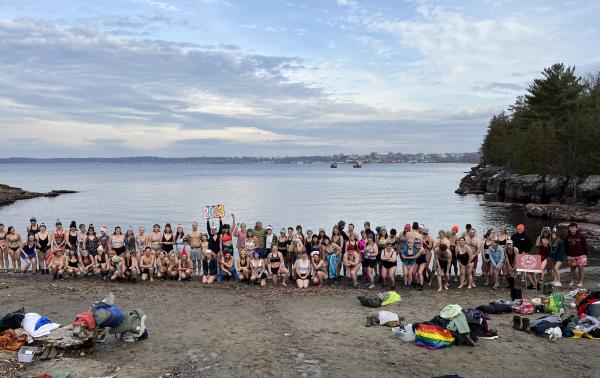 ommunity dip, a new dipper might be guided by a complete stranger, holding their hand and reminding them to breathe as they submerge deeper into the cold water. In the lake, dippers chat with one another or jump in and out as quickly as possible. Others take time to enjoy the quiet of the cold water and air. They might catch the sun peaking through the clouds over the Adirondacks or a snowfall that transforms Burlington into a picturesque snow globe. From a vantage point you simply can't experience any other way than from the cold water. 
Give Kath a follow @redhotchillydippers and find out more!