Burlington's Old North End is a vibrant and diverse neighborhood with plenty of things to see and do. Start your day with a stroll through Battery Park, and soak in the amazing views of Lake Champlain and the Adirondack Mountains. From there, head to the bustling North Street for a bite to eat or some shopping at one of the many locally owned businesses. Take a self-guided tour of the street art and murals that adorn the buildings throughout the neighborhood. For our history loving friends, the Ethan Allen Homestead Museum offers a glimpse into the life of one of Vermont's most famous founding fathers. In the evening, grab a craft beer at one of the neighborhood's local breweries. The Old North End is a true gem of Burlington, offering something for everyone to enjoy. 
Check out more information on the O.N.E. here! 
START YOUR DAY WITH A VISIT TO ONE OF THESE FAVORITES

Start your morning in the O.N.E. with a hot cup of coffee paired with a warm muffin, buttered up biscuit, or a fresh cinnamon roll.

Only a few blocks from the Church Street Marketplace, swing by before 2pm to make sure you get a taste!

Scout is an espresso bar and ice cream company with shops in Burlington and Winooski. Dedicated to scouting out quality roasters and serving delicious coffee. Offering their own hard ice cream made on-site, discover new flavors! Menus are always evolving so check back often and see what's new!
Poppy is a cafe with a small market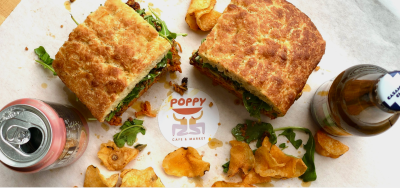 in Burlington's Old North End. Originally conceptualized as a hybrid between a coffee shop and general store, Poppy is a gathering space for the neighborhood, a go-to spot for a quality meal, a resource and partner for community groups, and a space where people feel at home. Subject to seasonal change, Poppy offer's lunch and light snack options that will be available all day.
THINGS TO DO IN BURLINGTON'S OLD NORTH END

Ethan Allen Homestead
The Ethan Allen Homestead is a historic museum built in 1787 by Revolutionary war hero Ethan Allen, and is the only surviving residence of his in the state. It is open to the public annually from May to October.
Visit the Ethan Allen Homestead
Jamba's Junktiques is a collection of reused items dedicated to reducing landfill waste while providing useful materials to local artists and makers. They encourage bartering and haggling, so swing by and find something you didn't even know you were looking for!
The Old Spokes Home is a locally owned bike shop and non‑profit with a goal of making bikes more affordable, providing the opportunity to get everyone on a two‑wheeled ride. Regardless of income. Pop into Old Spokes Home and check out some amazing bicycle history! 
Activate your inner lumberjack with Burly Axe Throwing. Take a shot at the target and see how your skills hold up. With six IATF targets and two lanes with natural slab targets, Burly Axe Throwing has much to offer axe throwing enthusiasts. Book an hourly throwing session or a group session and let the friendly competition begin!
The Intervale Center manages 360 acres of organic farms, gardens, forest, and recreational trails in the heart of Burlington. Explore our riverside trails by foot, bike, or skis during your visit, or experience a community workshop or event such as Summervale at our historic farmstead. You can even get your hands dirty volunteering with our food access team or Conservation Nursery if you're feeling adventurous - or place an order with the Intervale Food Hub to enjoy food from local Vermont producers during your stay
GRAB A BITE TO EAT IN THE O.N.E.

May Day is a new addition to the O.N.E. serving up a delightful menu of small plates and sandwiches along with a delicious wine and cocktail list. With light fare, snacks, noodles, and large plates. May Day could be the next best thing in your life.. Come check it out! 
A robust bar and taqueria with an emphasis on all things tacos, located in the old O.N.E. Redemption Center.  While serving up a delicious menu of tacos and burritos is their specialty, Taco Gordo also serves up Creemees in the summer months at their "Little Gordo" Creemee Stand.  We'd highly recommend the carnitas tacos, if you're interested.

Beansies Bus is located at Battery Park all summer long. This traditional school bus, serves up some of the best hot dogs, burgers, and fries in the city. Place your order and find a bench overlooking Lake Champlain and the Adirondacks. You'll be able to find Beansies from now until October! 
Pho Hong
BYOB restaurant for Vietnamese noodle soups & other traditional dishes in a casual setting in Burlington's Old North End. Grab your friends, grab a table, and grab a delicious bite to eat at Pho Hong! 
LATE NIGHT IN THE OLD NORTH END
Radio Bean
A combination of music, food, and retail all side by each. The Radio Bean is back with a full calendar of upcoming events! This is a must for your late night on the town. Pop on by and check out some of Burlington's best local music! Check out the setlist here! 
A neighborhood bar in the O.N.E. T Ruggs is known for it's great beer list, lively evenings, and good times in the Old North End. 

Olde Northender Pub
The Northender is a traditional neighborhood bar in Burlington. This staple to the Burlington bar scene is essential with a motto of "Start your bender at the Old Northender."